ICAST 2008:
Ardent Shows Pretty Nifty Products
Jerry Boling of Ardent had several shrewd new applications to show across a range of products. First and foremost, a highly-customized flipping reel. Second, a nifty tool. Last but hardly least, a cool culling ball system.
F500 Flippin' and Pitchin' Reel. If you live to flip and pitch, this reel may be something from your wildest dreams. The reel has a wide nose cone opening with a ceramic insert. There are no moving parts, no level wind pawl to lay the line from side-to-side on the spool. The lack of any line-laying or level wind mechanism reduces friction, so pitch-casting is smooth, accurate and goes the distance.
The spool is dramatically narrow than usual. The result is the line self-lays itself perfectly on the narrow spool. Max line capacity is 75 yards of 20-lb test mono. For those who prefer braid, there is a nailhead on the spool arbor so mono backing is not necessary. With braid, tie direct to the nailhead.
It starts to get interesting when you notice there is no drag star to set. There is a drag, but you can't adjust it. The F500's internal drag is called 'Perma-Lok' is factory pre-set to slip only on a 20-lb pull. The stout stainless steel handle can 'handle' more stress and pressure than typical aluminum handles, and there are 5+1 stainless ball bearings on the reel. MSRP $149.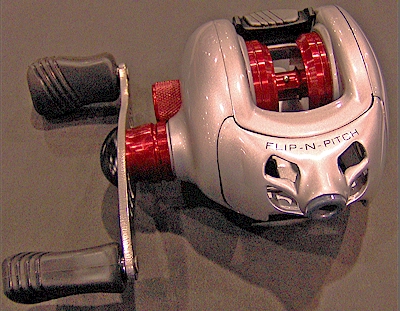 This extreme flipping/pitching reel looks to be right up a Mexican angler's alley!
Rigger Multi-Tool. Leeloo, the protagonist in The Fifth Element had her 'multi-pass' and now you can have something just as nifty - the Multi-Tool. Fishing writer Margie Anderson who has a thing for gadgets told me to check this out. I am glad I did. Like many tools of this kind, it is built around a toenail type clippers. The clippers are for braid or mono. Then there is a hooked line cutter for more difficult braid. It continues to get better with a line threader that's useful for getting line through the pawl eye of a baitcasting reel. Also a jig eye cleaner and hook sharpener.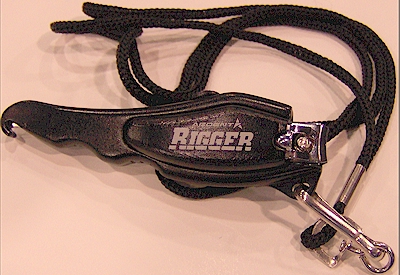 If you like gadgets, this one from Ardent seemed nifty.
Smartcull System. A series of six buoyant balls can be dialed and locked in to display from 0-15 pounds and 0-15 ounces. It's a push-button dial, you can set it in seconds, and then it locks on the number you set it on. Possibly the niftiest culling idea I've ever seen. I can see where these will reduce a lot of reweighing and uncertainty when culling fish in the livewell, resulting in less stress on fish and anglers alike. Heck, even if you just dial them from 1 through 5, with 5 being the next to cull, it is far more consistent than trying to remember whether it's the blue one or was it the green one's turn to cull next? I know you've been down that road before!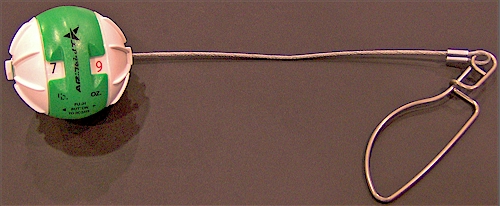 One of the niftiest culling ideas I've seen yet.
Special Features of ICAST 2008: