ICAST 2008:
Day of the Jackall Lures at ICAST
Jackall's bigging up on the hard bait side of the business, with bigger topwater, jerkbait and wakebait models for 2009.
Bowstick 130 Topwater. Jackall had a number of new baits for 2009. The one they emphasized most was the Bowstick. It's a topwater bait that can be worked or 'walked' side-to-side. Unlike other baits of this type, the Bowstick features unique gill tunnels to add splashing and bubbling. It's about the same size (5-1/4" long) as a Super Spook, and a little heavier at 1 oz.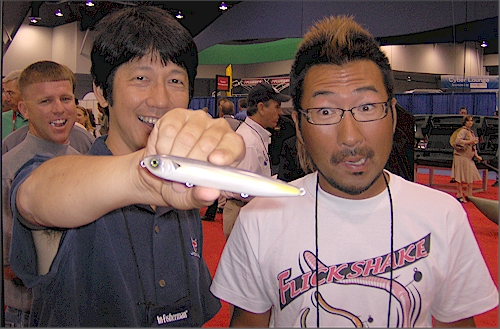 Top Japanese pros Ty Ono (left) and Hata Takuma (the handsome comedian) emphasized Jackall's new Bowstick 130.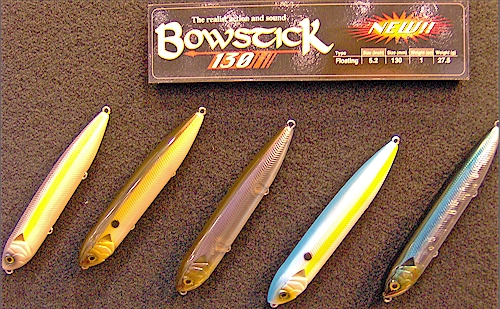 Squadminnow 115 and Squadminnow 128. In 2008, the Squadminnow 95 was introduced. It quickly became the most popular Jackall jerkbait model in the USA. For 2009, there are two new larger Squadminnow sizes:
the Squadminnow 115 is 4.6" long and weighs 5/8 oz
the Squadminnow 128 weighs 3/4 oz and is 5.1 inches long
I didn't get photos of these. They look identical to the existing Squadminnow 95, except the 115 and 130 have three trebles (95 has two). These new Squadminnow sizes are representative of an overall industry trend toward larger jerkbaits today. Part of the new popularity for bigger jerkbaits is based on the megatrend toward swimbaits in the 5 to 6 inch size range. So anglers are also interested in bigger jerkbaits now, those that are in the 115 to 130 (4-1/2 to 5 inch) range. Such jerkbaits are closer to popular swimbait sizes.
Mikey Sr. The new 2 oz Mikey Sr. is almost 6-1/2 inches long. Time will tell just what it's got, but if it's anything like the original Mikey and Mikey Jr., it's going to be hot. Red hot.


Mikey Sr. in new Sexy Shad color. Sexy Shad has been added across Jackall's product line for 2009.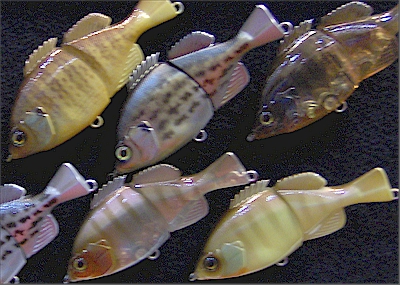 New colors of the near-perfect Giron jointed swimbait have been added for 2009.
6.8" Flick Shake Wacky Worm. On the soft bait side, Jackall's supersizing too, with a new, larger Flick Shake wacky worm. The Flick Shake's fairly unique in that it has a molded-in body curve, which enhance the natural sway and swagger of the Flick Shake when rigged on a wacky jig head, weightless wacky, or when rigged wacky dropshot style. Of course it goes swell on a standard shakey jig head too.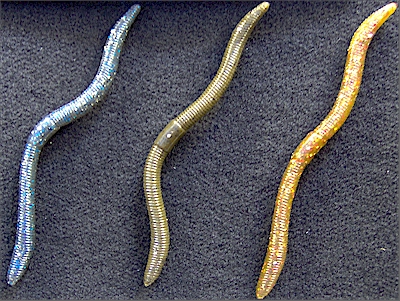 New 6.8" Flick Shake.
Double and triple up with Flick Shakes. I got a great tip at ICAST from Jackall pro Hata Takuma. At times, he'll wacky rig two or even three Flick Shake worms on a single wacky jig. With two, Hata often prefers both the same color, in the 5.8" Flick Shake size. He'll start out to make the three worm wacky jig rig the same way, and then adds the third wacky worm in the smaller 4.8" Flick Shake size, making it a different color than the other two.
Cover Craw. This is a new backward gliding chunky, craw-shaped soft bait that falls away from the angler, so it can work its way under docks, under floating grass mats or under overhanging banks or ledges. Available in 3" and 4" sizes.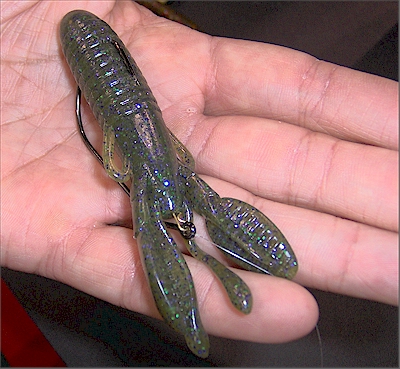 New Cover Craw works it's way backward moving away from the angler to get under cover.
Jackall Poison Rods. Jackall also desires to test-market their Poison line of fishing rods in the USA. There doesn't seem to be any concrete sales plans or marketing goals at this time, except that Jackall is interested to test what type of consumer demand may exist. Depending on model, Jackall rods retail around $450, and have all top-of-line components. The models on display at ICAST included:
Flick Shake Rod

. One of the rods US anglers may be most interested to try is the special purpose Flick Shake rod, says the company. In order to achieve the perfect Flick Shake fishing action in this rod, the blank has a smaller overall diameter but thicker walls than other rods.

Jackall Cranking Rod.

The company recommends it for the new Bowstick 130, TN70, the new, heavier Squadminnow jerkbaits and the Muscle Deep cranks, depending on what pound test and type line - braid or mono - an angler used.

Solid Graphite Finesse Spinning Rod.

Most unique was a solid graphite rod blank. Jackall staff felt this was one of if not the first solid graphite rod on the bass market. Because it's solid, that permits a super-thin overall rod diameter.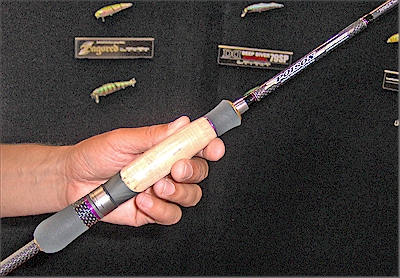 Solid graphite rod blank may be unique within the bass rod industry.
Special Features of ICAST 2008: