ICAST 2008:
Mega Strikes Again at ICAST
It wasn't too long ago (two years) that MegaStrike won a Best of ICAST new product award for their then-new Evolution Jig.
Well, they say lightning doesn't strike the same place twice, but Mega does! Not with an award this time, but with the sensation at the ICAST show surrounding MegaStrike's new ShakE2 jig. There's never been a jig as technically-constructed nor perfectly-balanced like it!
The emphasis this year in the MegaStrike booth was on their new stand-up style ShakE2 jig head that's especially designed to fall forward and land upright. It tends to balance upright on the wide football head and fulcrum plate. Another feature is the jig head has two keeper collars. One collar to thread soft baits onto the jig hook shank as in traditional exposed hook jig fishing. The second keeper collar lets you rig baits weedless (aka shakey jig style) when snags are present.
Megastrike owner Bobby Uhrig shared a little tip that he's been rigging smaller swimbaits on the ShakE2 heads, since he finds that the ShakE2's fulcrum plate can work almost like a crankbait lip, giving more swimming action to swimbaits.
Many vendors have test tanks to demo their products in action to buyers at ICAST.
"Swimbait vendors who saw how the ShakE2 enhanced the action of their swimbait products immediately wanted them to demo with their products. One of the top swimbait names in particular, he took one look at how it made his swimbait move, and immediately asked to order 100,000 ShakE2s," says Bobby proudly.
"You know when everybody who's anybody in the soft bait biz are all ganged up at MegaStrike's booth to try to get ShakE2's to show off rigged on their products back at their own booths, you've probably done something right," says Jamie Cyphers, editor of Bass West USA magazine.
MegaStrike also plans to offer a heavy duty 3/4 oz size with a heavy flipping hook for working it through thick grass such as on Lake Guntersvillle, Alabama.
"Some of the top names in our sport have asked for and are using the prototype of this flipping ShakE2, and it works perfect in all kinds of heavy cover - too good for me to let them be the only ones who have it," laughs Bobby.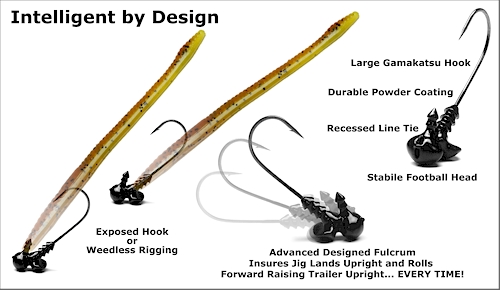 Special Features of ICAST 2008: