ICAST 2008:
Daiwa Stays in High Style at ICAST 2008
Bryan Yamame gave me a brief overview of Daiwa's new items for 2009, and there are many of them. Daiwa, with it's top-of-the-line Steez system (Daiwa refers to a rod and reel as a 'system') leapt into the forefront of style a few years ago, and has never looked back. Today, Daiwa has the fanciest styling - as well as some of the most functional and durable rods and reels, especially with its premium level systems like Steez, Fuego and Zillion.
"One of the main Daiwa themes for 2009 is speed," prefaces Bryan. "Daiwa pros expressed a need to us for more speed across the product line, and Daiwa's delivered that with new high speed reel models across all system levels for 2009," says Yamane.
Steez 103SHA and 100SHA baitcasters. Not only the lightest reels of their kind, they're also the fastest, featuring a blazing 7.1:1 gear ratio which recovers a whopping 29.8 inches of line with each turn of the handle. Yes folks, that is about as light and fast as a bass reel gets. The 5.6 oz Steez 103SHA holds just a bit less line and weighs 1/10th oz less than the 5.7 oz 100SHA model. Otherwise, advanced features and functionality in all regards are impressively identical on the Steez 103SHA and 100SHA. MSRP $479.95.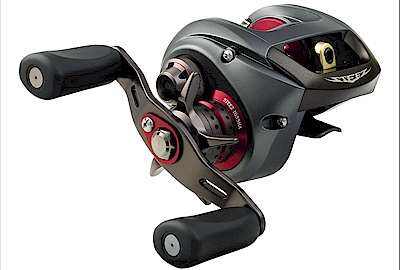 Daiwa's top-of-the-line Steez 103SHA.
Steez Swimbait Rod. In the Steez system, there's a nice new Steez swimbait rod Bryan showed me. "This new rod's for smaller swimbaits like the Money Minnow and many others like that," says Bryan.
Whereas most swimbait rods today have been built for bigger swimbaits, this is one of the few rods designed for the popular and smaller Basstrix-spawned swimbait market. There are many smaller swimbaits such as this flooding the market - but few rods designed for them.
Steez Fle-X-Lite rods. Also part of the Steez system, the new Fle-X-Lite series includes three baitcasting and two spinning rods. They all combine the flexibility of fiberglass with the lightweight properties of graphite for crankbait and jerkbait applications.
Yamane feels the Fle-X-Lite baitcasting models will be hot crankbait outfits. "They have slower action and a fiberglass-like feel. That means they are softer and more forgiving on the hookset and during the fight, but still maintain lightness," says Bryan.
"These make great spinning rods for tossing difficult-to-cast hard baits like balsa cranks and lightweight jerkbaits too. also What we've found with the Fle-X-Lite spinning rods is that there are some guys who really like the softer, slower fiberglass-like action in a spinning rod for dropshot and shakey jigs." Bryan suggests you try these rods for those applications. These are tactics where you're not hitting the fish hard or fast. In fact, if you do, you're not going to hook them. So these fiberglass composite rods help the fish get a good grip and bear down on the bait in their mouth, before you can pull it away from them.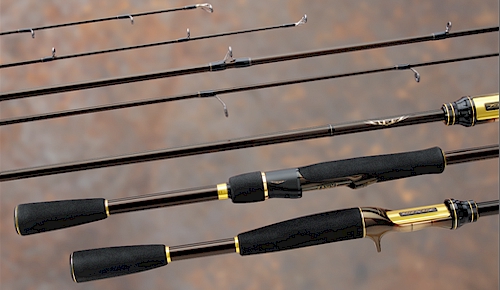 Steez Fle-X-Lite rods MSRP from $419.95 to $449.95, depending upon model.
Fuego Spinning System. New TD Fuego spinning rods and reels feature reel body, rotor and sideplate parts plus rod handle components made of lightweight, corrosion-resistant 'Zaion' graphite. These are rugged, beefy, well-built systems, including waterproof drag systems equally suitable for inshore coastal fishing which is a much more punishing and harsh fishing environment on equipment. So you know the Fuego spinning system is going to be more than heavy duty for freshwater bass fishing too. As expected from Daiwa, the Fuego rods and reels are the height of style, light weight and functional.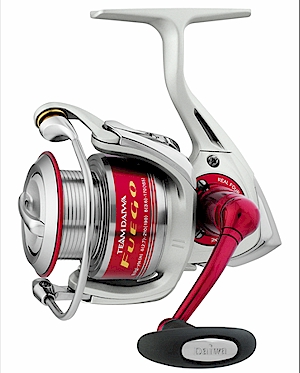 Fuego spinning reels are heavy duty. MSRP $279.99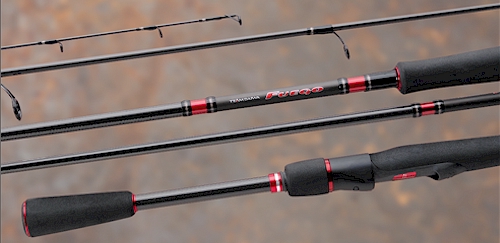 Fuego spinning rods. MSRP ranges from $199.95 to $219.95.
Special Commemorative Edition TD Zillion 7.3:1 Baitcaster. To commemorate the Daiwa company's 50th anniversary, Daiwa is offering a Special Edition Hyper-Speed TD Zillion reel with 7.3:1 retrieve – the world's fastest low-profile baitcaster. Capable of cranking in an amazing 32 inches of line with a single turn of the handle. These unique gleaming red reels – each engraved and serial numbered – have an MSRP of $299.95. "The commemorative model will only be made in limited production based on order estimates," says Bryan.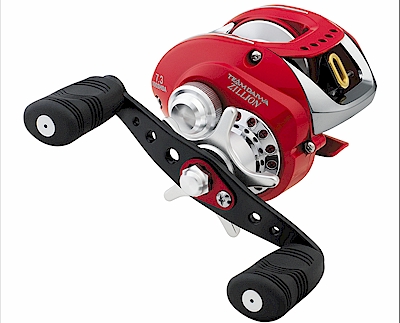 Daiwa's commemorative 50th anniversary model is the fastest bass reel ever made.
TD Zillion 4.9:1 'Crazy Cranker'. Daiwa has also introduced a new TD Zillion baitcaster model TDZLN100PA with a low 4.9:1 ratio for crankbaits. Nicknamed the 'crazy cranker.' it takes in 22 inches per turn. "If you're planning to fish a lot of crankbaits, particularly the deep-diving kind, then a low-ratio reel like this is important.," advises Yamane. MSRP of $269.95.
TD Zillion Rods. Twelve new TD Zillion rod models are also new for 2009. Features include the new, stylish Zaion handle components and reduced-weight Air Foam handle grips like higher-priced Steez rods.


TD Zillion rods range from $199 to $219 MSRP.
Mike Iaconelli Signature Rods. These are timely in that they are intended for the latest new fishing tactics such as: Long Cast Cranking, Shakey/Wacky Jig Head Spinning rods, Super Long Cast Spinning. Plus baitcasters for Jerkbait, Pitch and Skip, and the Power Flipping Special rod, covering all the very latest tactics.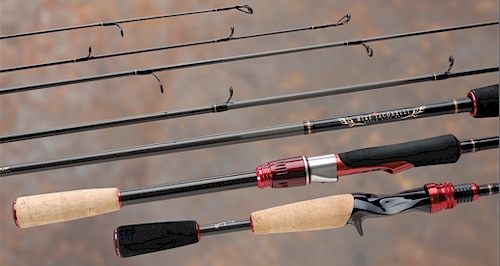 Mike Iaconelli Signature Rods cover the latest new tactics.
Megaforce Plus Baitcasting Reels. As with all new Daiwa reels mentioned above, the Megaforce Plus 100TSH has a swept-in handle bar, which moves the grip paddles closer to the centerline of the rod for less wobble, a better feel and maximum winding leverage. This is a great Daiwa reel feature, and many other of the high-end features found on higher-priced Daiwa reels are also features on the new Megaforce Plus 100TSH which has 11 ball bearings and a 7.1:1 ultra high speed retrieve.
What the Megaforce Plus also has is Daiwa's Twitchin' Bar. "This neat feature has proven very popular for Daiwa," says Bryan. What it is, it's a little level that takes in up to seven inches of slack line or imparts a subtle twitching action to a jig or worm or whatever bait you're using - with a simple push of the thumb. Best of all, the Twitchin' bar is a lot of fun to use, convenient, and it works! All this at an affordable MSRP of $99.95.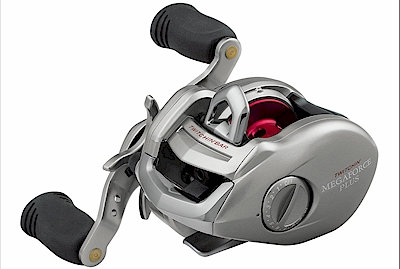 Megaforce Plus features Daiwa's popular Twitchin' Bar.
Summing up Daiwa's New Systems for 2009. I told you Daiwa had many new and beautifully-stylish additions for 2009. Probably too many for the ordinary angler to make sense of, so I asked Yamane to kind of simplify and sum it all up for us, which Bryan did quite nicely.
Steez.

"On the high end, there's no question that if you can afford it, then Steez is the ultimate top-of-the-line system in features and performance."

Zillion and Fuego.

"Most serious tournament anglers will be found using the Zillion and the Fuego systems, which offer a level of high performance not attained in many other brands," claims Yamame.

Megaforce.

"By far Daiwa's most popular system are the Megaforce level of quality rods and reels. You can get set up with a Megaforce system (rod and reel) for somewhere in the range of $150," says Yamane. "The Megaforce system level offers much more than everything needed in a rod and reel for the avid to casual weekend angler."
Lure Catcher. This one sounds just too good to leave out although at first, Daiwa's Lure Catcher may seem a little pricey at $19.99, but the features make it worth it, especially if you save a few high-priced crankbaits with it. This item can become a money-saver after just a couple of recovered lures.. but don't stop there! The heavy weight and the octopus-like mass of chains on the Daiwa Lure Catcher look to be ideal to retrieve stuck jigs, jigging spoons and all manner of tackle that other lure retrievers may not be able to salvage. It's the many chains that up the odds your favorite baits will be recovered. Then there's the convenience of the reel spool to hold the 45 feet of line it comes with. At least in terms of looks, without trying it, the Daiwa Lure Catcher appears to be the Cadillac of lure retrievers.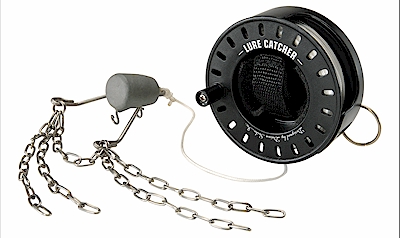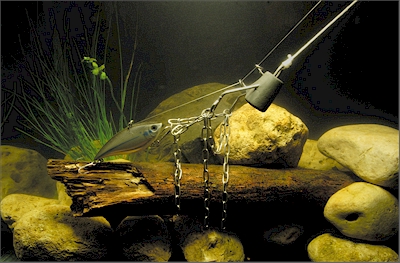 Special Features of ICAST 2008: