ICAST 2008:
G.Loomis Goes for the GLX Excellence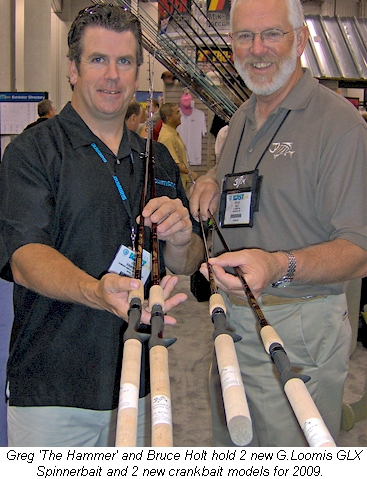 For bass anglers, G. Loomis introduced five new GLX rods.
CBR853 GLX crankbait casting stick
CBR855 GLX crankbait casting stick
SBR812 GLX spinnerbait casting rod
SBR813 GLX spinnerbait casting rod
SHR822S GLX Shakey head spinning rod
The new GLX rods are the top of the line rods across all Loomis crankbait (CBR), spinnerbait (SBR) and shakey head (SHR) rod series. In other words, it doesn't get any better than GLX.
"You will have the same actions as existing CBR, SBR and SHR rod series - enhanced with the light weight and extra sensitivity of the premier GLX graphite. With these new rods you will feel every turn of the blade and every movement of your crankbait," says Dave Brinkerhoff.
"All of these new GLX rods have Recoil guides on them as well. They're half the weight of normal guides. There are no rings that can pop out. The guides cannot become bent or misaligned. You can even step on them," says Bruce Holt.
Recoil Guides and GLX. "Not only are there less accidents, lighter guides, but an interesting phenomena exists with Recoil guides on GLX, and it may have something to do with it being a single piece of flexible wire with both ends affixed to the super-responsive GLX blank. You get a little extra reverberation, a little more feedback and line feel due to the Recoil guides," both Bruce Holt of Loomis and Greg Hammond of Shimano Canada tried to explain to me the best they could. "We haven't talked about this much, but it's there. Once you experience it, you'll know. It only occurs in the Recoil guide models," agreed Bruce and Greg.
There are no edges on the Recoil guides It's a single piece of smooth, round wire. "The guides go very well with braided line. In fact, since they makes such a nice package with the GLX rods, we're now thinking about putting the Recoil guides on some of our other rods," says Holt. "The biggest issue is the inherent high price of Recoil guides."
The Shelf Shake. In comparison-shopping for the new GLX spinnerbait and crankbait rod models, GLX may feel stiffer in the showroom. The GLX material has less of what Bruce Holt call 'shelf shake.'
"When you shake a GLX rod in the air and flex it against the carpet, GLX rods may seem stiffer, but that's deceptive," explains Holt.
"Once out on the water, you'll find the GLX rod actions are the same actions like other CBR and SBR rods. So the GLX actions are the same, not stiffer. GLX is totally different, however, in that GLX reduces weight and increases sensitivity unbelievably," says Greg Hammond.
"In terms of the new GLX Shakey Head spinning rod, first let me say that last year (2008), G. Loomis debuted two shakey head rods," says Bruce Holt. "Western anglers in clearer water with lighter lines went in for the 1 power model. But the best seller by far across the entire country was the 2 power model shakey head spinning stick. A lot of anglers wanted that 2 power strength especially in midwestern and southern states. So now, for 2009, we are introducing the same action as that 2 power rod model in top-of-the-line GLX with the Recoil guides," Holt says. "This rod handles best with 8 lb test. You can drop to 6, but be a little more careful with 6 lb test. Mono is a little more forgiving, but fluorocarbon will improve sensitivity," advises Holt. As Bruce says, however, it matches up best with 8.

Something about the Recoil guides (left) on GLX adds feel to the system.
Special Features of ICAST 2008: