ICAST 2008:
Plano Wins Best of Show Award in Tackle Management Category
For 2009, there's a pair of matching KVD signature bags. The 4870 is a tackle bag whereas the bigger 4880 is a gear storage bag.
4870 Tackle Bag.

The smaller 4870 includes four 3700 Series StowAway utility boxes, intended to be filled with tackle. The 4870 measures 22.75"L x 12"W x 12"H.

4880 Gear Bag.

A larger bag for bulk storage, with ample compartments, zippered pockets and mesh pockets for all sorts of gear storage. The 4880 measures 27"L x 15.5"W x 15.75"H.
"I'm glad to hear this year's Plano KVD bag won the award for best new tackle storage product at ICAST," says Kevin VanDam proudly. "It shows we did our job."
"We've done, I can't tell you how many different ones," says Kevin VanDam. "We come out with a new Plano KVD signature bag almost every year. In considering the goal of the bag, what we keep in mind most is not a pro angler like myself. We're fine on gear storage. What we consider most is the weekend angler, the ones who are going to use this bag a lot as a non-boater, co-angler or as a buddy in a team tournament," KVD explains. "That's what we're aiming for, so a co-angler or non-boater can get on a boat, fish all day and be equipped with all the gear he needs."
"The KVD series is really one of our high end product lines," explained Jesse Simpkins of Plano. "One feature we are quite proud of is that both bags have a separate waterproof section for cameras, cell phone or anything that needs to stay dry," says Simpkins.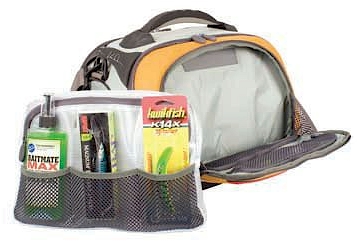 There is no lid or top- flap on either bag. Instead, both sides of both bags can be zippered open for easier access - a very good idea.
The two zip-away sides of the bag are yellow. The core central panel of the bag is gray - and the part with the built-in handle to lift the bag and to attach the optional shoulder strap. The center panel is almost like a built-in strap or the structural support that both sides zipper onto - a little hard to describe in writing, but easy to understand when you actually see it.
So, along with there being no top flap or lid, there is no carrying strap either. Instead, the carrying strap is integrated into the bag itself (plus the optional shoulder strap), another nice idea.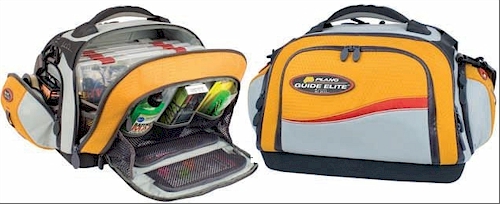 KVD 4870 (open) comes with four 3700 size utility trays for tackle. KVD 4880 (closed) is a bigger bag for bulk secondary storage.
Special Features of ICAST 2008: