ICAST 2008:
Quantum's New KVD Tour Rods and Reel Cover all Cranking Situations
KVD Tour Crankbait Rods. The new, red-colored KVD Tour rod family consists of six models.
"What we wanted to do was create a line of crankbait rods for every scenario," says KVD. "Kind of like having a set of golf clubs, and always having the right club - or rod - for the shot you want to make."
"The KVD crankbait rods may look heavy since they are built big for Kevin's style of aggressive power fishing, but looks are deceiving. They are actually light in weight," claims Quantum product manager Chris Strickland.


KVD Tour rods have big, brawny dimensions - and are lightweight.
The six rods range from a 6'6" medium-light model to a 7'10" model that VanDam calls his "launcher" because of how far he can throw a big crankbait after loading it up on the rod's full length of action from tip to butt.
"Starting with the 6'6" model, it is the most accurate," says VanDam. "I use it for small crankbaits I need to cast into tight spots. If I need to hit a laydown, get under a dock or pick apart a riprap bank with precision casts, whenever I want to be real accurate with a smaller crank, the 6'6" rod gets the nod," according to Kevin.
"The next rod in the series is a little longer, and I use it in pretty much the same scenario, except with a little bit bigger squarebills, balsa baits like B2's or B3's or any medium-sized crankbait where placing it accurately is important," continues Kevin.
"The next two rods, the 7'0" and the 7'4" are for medium-diving and deep-diving cranks. The 7'0" and 7'4" have the action necessary to control these relatively bigger cranks," explains Kevin.
"Something like the Strike King Series 5 crank, I use the 7'0" medium action rod."
"In terms of the lipless Strike King Red Eye Shad, I throw that 99% of the time on the 7'0" medium," Kevin informs us.
"The 7'4" and 7'10" rods are for the deepest, biggest cranks like the Strike King Series 6, DD22's, Luhr-Jensen Hot Lips, or any of the largest, deepest cranks out there."
"These rods are all composites," says Kevin."The six models each feature a blend of graphite (for light weight) and E-glass fiberglass for parabolic rod action so prized for casting and better hooking/landing of fish on crankbaits."
Graphite gives you some power to unload and throw far while e-glass loads and stores casting energy during the swing.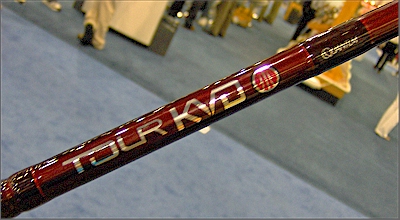 The KVD Tour rods retail around $149.
Energy E100PPT Crankbait Reel. The reel that goes with the KVD crankbait rods is the 5.1:1 Energy E100PPT. It takes in a low 21" a turn. "When you see KVD, it seems like he's wearing himself out reeling so fast, but it's actually just the opposite," says Chris Strickland. "With the lower ratio reel, there's not as much torque, that's what will wear you down quickly - the torque of higher ratio reels," Chris explains.
"In addition to the gear ratio, the spool size is critical," says VanDam. "A 5:1 reel with a big spool will take in more inches per turn than a small spool. So in the final analysis what I like to have is something that takes in about 20 inches per turn - and that's what the E100PPT does," says Kevin.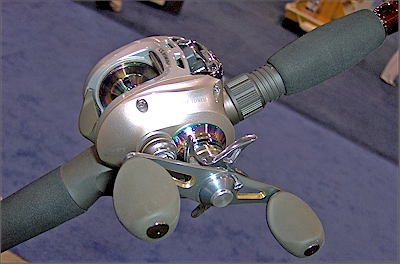 Shown on KVD Tour cranking rod, the Energy E100PPT reel retails around $189.
Special Features of ICAST 2008: