ICAST 2008:
Good-Looking Hooks from Eagle Claw, Gamakatsu, Mustad, Owner, TTI, VMC
Weighted Swimbait Hook. Eagle Claw showed me their new swimbait hook, available in 3/0 to 7/0 and in several different weights.
Eagle Claw swimbait hooks have a single-wire barbed spear that is a little easier to center within a bait, and baits can be re-used since the spear doesn't tear soft plastics up as much, says who adds that the Eagle Claw barb gets in deep and holds on tight to swimbaits.
The offset neck of the swimbait hook provides a little more room than most other hooks. This ample neck room comes in handy with many of the wider-bodied swimbaits, advises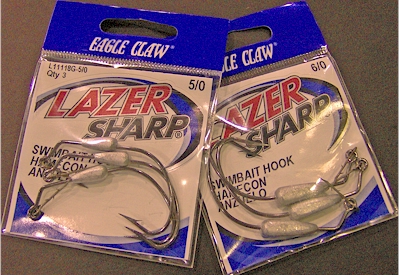 Eagle Claw Swimbait hooks.
Assorted Swimbait Hook Kit. Eagle Claw is offering a kit containing an assortment of three of each size swimbait hook. The assortment makes a lot of sense, since finding the perfect size hook for each different swimbait model is a hit-and-miss proposition, So having an assortment of different size swimbait hooks in a kit is a smart idea.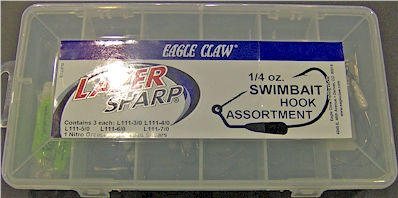 Plain weighted LL92. Eagle Claw now offers an offset shank worm hook with a molded-on shank weight. What Eagle Claw makes more use of, which other vendors don't yet, are chartreuse hook finishes. Chartreuse hooks are going well for Eagle Claw, says. the company.
It's a color that's always used as an attractor on lures. So chartreuse hooks make sense to me. I'd like to see more of them from other hook vendors too.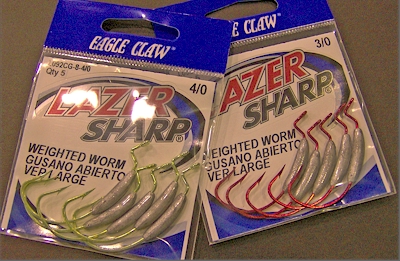 New LL97 Short Shank Wide Gap Wacky Hook. What's worthy of special mention here is Eagle Claw's wacky hook comes in a wide range of sizes from #4 up through 6/0. There are certainly some 'maestros' I know in Mexico (where bass pros are sometimes referred to as 'maestros') who would probably love to tie on some of these larger 4/0, 5/0 and 6/0 hooks to wacky rig 6 and 7" Senkos for double-digit bass.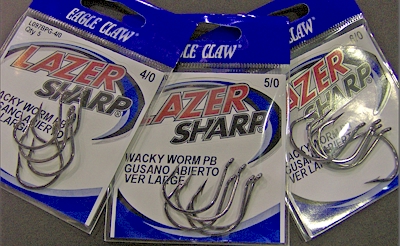 ---
Like everyone, we recognize the enormity of the swimbait market right now, says John Burgi of Gamakatsu, and we've added several new hook models geared toward swimbaits.
Weighted Superline Spring Lock. Based on the already proven Superline EWG hook, designed for braided line. It has a new 28 degree eye with a stainless steel corkscrew to hold soft baits securely. Available in 3/0 (1/16, 1/8), 4/0 (1/16, 1/8), 5/0 (3/16, 1/4), 6/0 (3/16, 1/4), 7/0 (1/4, 3/8). NS Black finish.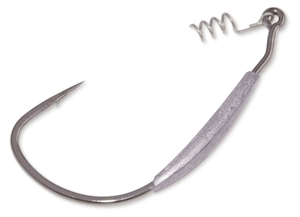 EWG Monster Weighted. One of the biggest, baddest bass hooks out there, developed with a heavy wire, and high carbon steel, to give it the strength needed for monster hook setting power! Has a slightly higher hook point needed to accommodate those larger and thicker baits used for big bass. Available in 5/0 (1/8, 1/4oz), 6/0 (3/16, 1/4oz), and 7/0 (1/4, 3/8). NS black finish.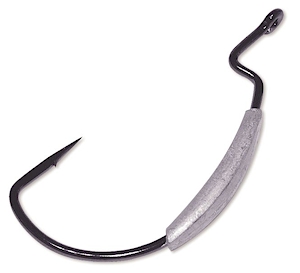 Weighted Superline EWG. Introduced last year (2008) in limited sizes, Gamakatsu has expanded this hook model for 2009 to include weights of 1/16 and 1/8 in hook sizes from 2/0 through 5/0. NS Black finish.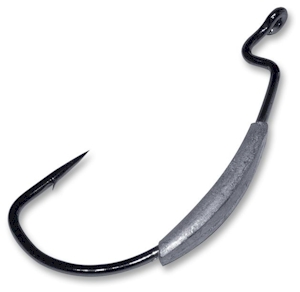 One thing about all the above hooks, says John, is the shank weights tend to have a flattened nature to give a little more wobble to swimbaits. Also, we feel Gamakatsu has the cleanest shank weights in the business, meaning they are clean and crisp with no ragged or rough edges.
Skip Gap Shaky Head. Gamakatsu's original weightless Skip Gap hook is doing well, says Burgi. it took a little time to take off at first, but now has its share of followers. So we've added a Skip Gap Shakey Head. Based on the 'Skip Gap' worm hook, the Skip Gap Shaky Head has the same unique bend to hold your bait securely to the hook. There are no barbs or keepers to tear your worm apart, no corkscrews, wires or other devices, just the unique bend of the Skip Gap hook that holds soft baits securely in place. Available in 3/0 (1/8,3/16) and 4/0 (3/16,1/4) in brown and green pumpkin.
The nice thing about the skip gap jig is you can skip a string of docks with them, but also fish the open stretches in between docks. You can fish open water or open banks as well as skip docks with the same rod and bait rigged on a Skip Gap Shakey Jig, says John.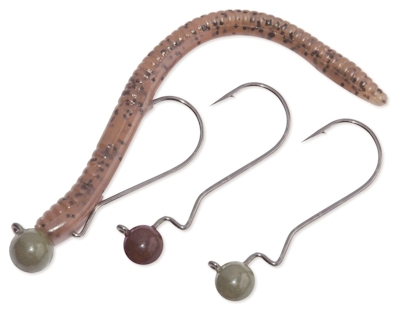 ---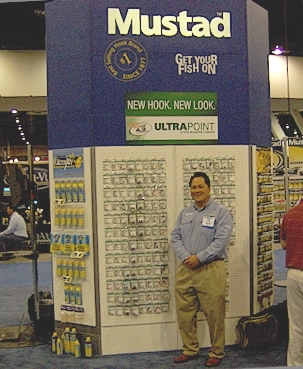 Steve Tagami emphasized two things: 1) Mustad's new 4.3 point technology, and 2) Mustad's new harder, darker black nickel finish.
New 4.3 Micro Sharp Point Technology. Mustad UltraPoint hooks now feature new 4.3 Micro Sharp Point Technology for a sleek, slimmer, incredibly sharp point.
"4.3 is a mathematical score, our designated ratio of all the combined characteristics of a hook point. The designation 4.3 means a longer, slimmer point. The sharpest possible and at the same time strongest possible point," says Steve.
This provides a true needle point for quick, easy penetration - plus incredible strength and durability.
"4.3 UltraPoints flat out stays sharper longer. After those first few casts, after a couple hours of bottom contact, scrapes with rocks, a few hard hooksets against grisly mouth bones, that's the time when the 4.3 UltraPoint is at its very best," Tagami enthusiastically explains.
"Also, many anglers may not know Mustad is the only hook company that makes (mills) its own wire - and ours is the only wire with the carbon content tailored to the model of hook we are producing. Simply having the highest carbon content does not always produce the best performance in a fish hook and, in fact, can have negative effects as well. Crafting the best fish hook is really about that ability to balance each of the individual pieces of the process from milling, bending, sharpening, hardening, tempering and finishing. Mustad is the only fish hook company that has internal control of each of those individual processes," says Tagami.
"Other hook companies buy batch wire from third parties. The wire they buy is not specifically made for hooks. Since we mill our own wire, we can make exactly what's needed for every size of every hook model. If we have a hook model that comes in five sizes, we can make five wire sizes for it. We custom blend our own special alloys into the wire, so we get lightness as well as strength," claims Steve. "Plus out UltraPoint hooks are always Nor-Tempered, a special process that creates up to 30% stronger hooks than standard. We don't always mention these things, but I thought I'd share them now. They're a few reasons why customer satisfaction with our hooks makes Mustad the largest hook company in the world," says Steve.
Mustad's Expanded Swimbait Hook Range. Mustad has expanded it's swimbait hook range by adding larger sizes suitable for larger swim baits, across three models including a plain hook version, one with a plastic keeper attached, and a version with both keeper plus a moveable shank weight:
Model 91768BLN.

Plain, unweighted extra wide gap hook, for adding your own wire corkscrew clip. Sizes 1/0 to 9/0.

Model 91768KH.

Has a unique plastic keeper attached to the hook eye, which makes rigging easy. Size 1/0 to 9/0.

Power Lock Plus.

This is the Cadillac of all shank weighted hooks since it is the only one that is adjustable. You can move it anywhere on the shank - and it will stay there. Plus it as the plastic keeper. The moveable weight on the shank that adds action and vibration to swimbaits:

Model 91768UB116. 1/16 oz. Sizes1/0 to 5/0.
Model 91768UB18. 1/8 oz. Sizes 1/0 to 5/0.
Model 91768UB14. 1/4 oz. Sizes 6/0 to 9/0.
Model 91768UB38. 3/8 oz. Sizes 6/0 to 9/0.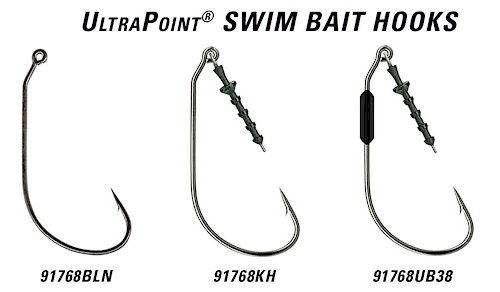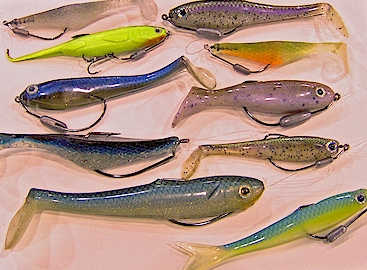 Swimbaits rigged on adjustable weight Power Lock Plus hooks.
---
Tony at Owner said it's incredible how everybody is coming out with swimbaits and hooks for them.
Weighted Beast Hook with Twistlock. Tony believes Owner's swimbait hook has the biggest gap by far, so it is ideal for up to the biggest swimbaits.
"We did a lot of researching what hook style was best for swimbaits," says Tony.
"We tried different ways to put the hook within the swimbait. Next, we tried to put the hook shank and weight close to belly on the outside."
"What we gradually discovered was the hook configuration you see here works best, with the hook shank weight slung far beneath the bait."
"We think only this new Owner Weighted Beast hook has the optimum distance and dimensions, "claims Tony.
"One thing we made sure of, that the point was well above the centering pin. If the gap is too small, even on a hook as good as this, you really do miss fish on swimbaits," says Tony.
Stinger Harness Rig. "As good as our Beast hook is, you - anyone - will get a lot of strikes that will be missed. So we came out with the harness rig, It features 80 lb braid. The harness rig eliminates missed short strikes. The fact is, many days you may land more fish on the treble proves a need for it," explains Tony.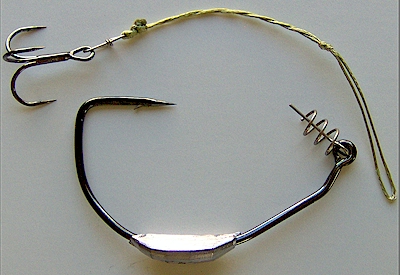 What every swimbait wants to be - a Basstrix. Rigged with Owner Weighted Beast and Stinger Harness.
Centering Pin Springs. These are the Cadillacs of the corkscrew keepers.
"Our centering pin corkscrew really took off on the hooks we put them on. So for 2009, we are offering the centering pins in 8-packs by themselves. They do not clip on like others that can get knocked off by fish. You screw the Owner Centering Pin onto (or off) any hook - but a fish can never knock it loose. That's the Owner advantage," winks Tony.
Owner Wacky Hook - Camo Green. Okay, , I've got to say I love the new camo color of this hook!
Tony laughs, "Most of the time we will come out with the standard model first, then the weedless one. Well, we did so well with our weedless wacky hook model, we decided to come out with this standard camo green one for dropshot and open hook wacky worm tactics."
"Of course, I am partial, but still say this is the best dropshot hook ever. It's really sharp and the bend holds the worm in the crook of the hook - or as we say, the hook features a 'saddle' for the worm to ride in," smiles Tony.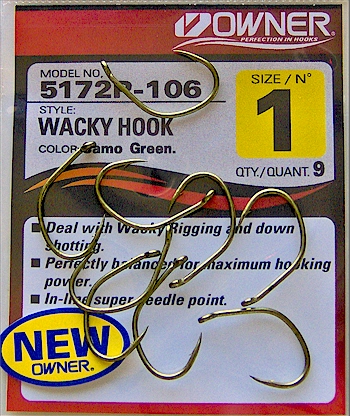 ---
Note: I do not have any good photos of this vendor's new products, but if you visit their website, you may be able to see some there.
TJ Stallings told me their Daiichi Butt Dragger hook now comes in two new sizes - 6/0 and 7/0 - to work with bigger swimbaits. The 'Butt Dragger' is a nicely-designed clinch-on weight, designed for hook shanks. The hook has a big round bend, whereas most other swimbait hooks, the point is angled in toward the bait. TJ believes the Daiichi round bend has better 'compression' when a fish bites. TJ says to go to the website at swimbaithooks.com for a good explanation of compression, and to learn all about swimbait hooks.
---
VMC is a Normark brand, but VMC has their own booth at ICAST.
Cyrille Matthieu of VMC wanted to emphasize their new huge, huge swimbait hook in 5/0, 6/0, 7/0 and 8/0. They are chemically sharpened black nickel.
The front of the hook has a special angle to avoid pushing eyes out of a swimbait, says Cyrille.
It looks like VMC paid attention to the alignment of all aspects of this hook. I like how the line tie eye is right on top of the nose - like a jig hook, but it has the offset bend for plastics,
The shank runs well below the swimbait belly in order to leave room to add weight on any of the new VMC hook sizes.
Cyrille says when the hooks come onto the market, they will be packaged with a matching pinch-on weight from Rapala.
The Rapala pinch-on weight will have a flat wide base, causing a swimbait to rock side-to-side, says Cyrille.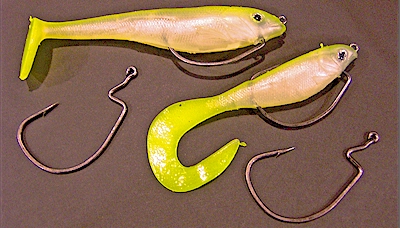 Special Features of ICAST 2008: