ICAST 2008:
New Fishing Line from Bioline, Blackwater, Cajun, SeaGuar, Sufix, Sunline
Wayne Black showed me Bioline, which will biodegrade (in about five years) when broken off or discarded after use. Even the disposable reel spools that Bioline comes on are biodegradable.
Okay, here's the deal - once you spool up with Bioline, it will retains 100% of its line strength for 10-12 months on a reel, which is longer than most anglers go between line changes. So effectively, it's a 100% strength line - for 10-12 months, claims the company.
Interestingly, Bioline is said to have a much higher UV resistance than mono. So Bioline will actually break down less slowly than mono, meaning mono wouldn't last long after a few good exposures to UV, mono would be rotten. Bioline, however, isn't affected as much by UV, says the company.
The Bioline material was originally perfected for medical sutures, so end knot strength which can't fail was critical for suture applications. For fishing, Wayne claims Bioline has 30-40% greater knot strength than mono.
In terms of fishing line manageability, Bioline is most similar to mono, says Wayne, so anglers don't have to relearn the nuances of yet another line material. Bioline does not absorb water like mono, Bioline does not permanently elongate like mono when stretched - but otherwise Bioline behaves mush like mono in fishing situations, says Wayne.
Bioline's lo-vis resins and compounds it is made from falls into the fluorocarbon line category in terms of invisibility underwater.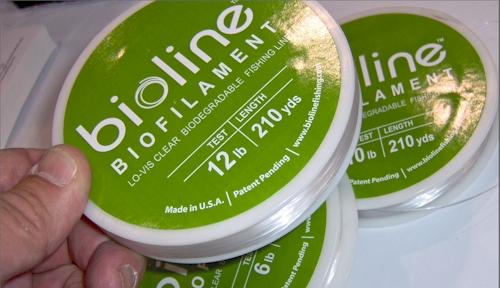 ---
A pro, who is sponsored by another line company, recommended the new Blackwater Bawo braid to me. He says the new Blackwater braid has been attracting a lot of attention due to its real soft nature and tiny diameter braid.
Blackwater Bawo Braid. Yoshizumi says this is a 'super power finesse-inspired' braid, meaning it is at its very best in the lighter, thinner finesse line sizes. Although it ranges from 10 to 66 lb test, what makes it special in line sizes of 20 lb test and under, says Dean, is that most other brands of braids go to 4 or even as few as three strands at 20 lb test and under. Blackwater Bawo braid is a full eight strands even at the lightest pound tests, and that gives it the smoothness and softness that only a true 8 braid line can have, says Yoshizumi.
Visual Strike Indicator. Another innovative and useful feature is it has a visual strike indicator built into the line. The braid is a dark black color, very neutral and natural in ordinary fishing situations - but also hard to see. So approximately every 3-4 feet, there's just a couple of inches of an uncolored white swatch of line. It's a continuous, single 8-braid line, yet every few feet it is not colored, leaving a few inches of the natural white uncolored line. No matter how much line you have out, you can watch one of these white strike indicator swatches to detect bites or ticks or movement of the line, indicating a fish has the bait, even if you can't feel the bite, you can see it. This is a great feature. A lot of guys have been going to other brands of all-white line braid in order to watch the line, but with Bawo braid, you have the more neutral dark line that blends into the environment, and short white swatches to see any tick or movement in the line.
At least it seemed nice at ICAST, and it's certainly a new braid I plan to try, especially in the true 8-strand 20 lb and under line sizes.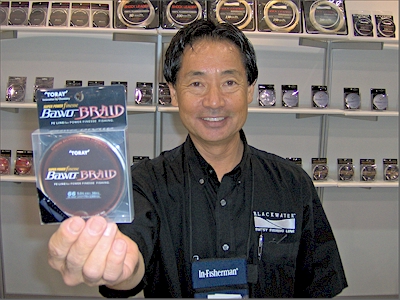 Bawo means 'feeding frenzy' according to the company's braided fishing line engineer, Dean Yoshizumi.
---
Cajun is a Zebco brand, but they had a separate booth at ICAST. Most interesting new product there was Cajun Fluorocarbon.
First, you may know that the Cajun line brand is known for red line, and all Cajun's other lines are red.
The new Cajun fluorocarbon line is clear, not red. Being 100% fluorocarbon, its the most invisible type of line underwater.
James Therrell, the chemical engineer, says Cajun fluoro is extruded in three layers, which are produced simultaneously so they melt and bond together so the line will never be possible to delaminate.
I told James that I have seen other unrelated copolymer or hybrid material lines delaminate in the past, but Therrell assured me that's not possible with Cajun fluorocarbon.
However, the three-layer process does make zones within the line, even though it's all the same fluoro material that's in all three zones. The impression I got was that all three layers are extruded at same time and fuse together. Since it's the same material, it 'molecularly bridges' according to Therrell, and can't possibly delaminate or anything like that.
One of the benefits is that cuts or cracks in the line tend not to propagate past the outer zone. For example, other brands of fluorocarbon, if they get a nick, it's almost like a crack in a car windshield that can then propagate all the way through the line. This is why some anglers say they experience break-offs on hooksets with fluoro. It's often a small nick that propagates or cracks through the line on a hookset.
With Cajun multi-layer fluoro, a nick or crack or abrasion in the line will be stopped by the zone composition. The crack or nick will not propagate past the first outer zone of the line. True, the nick weakens the line, and you may still want to cut back past that abrasion once you discover it, explains Therrell, but it will not crack off or propagate all the way through the line like most all other fluoros will do.
The layered constitution also allows the line to maintain more flexibility with much less stretch than some other fluoros, claims Therrell. Many anglers don't know it, but other fluoros that are developed to be easier-casting or more flexible, they have over 30% stretch in order to gain flexibility. Cajun fluorocarbon line is as low as 20% - which equates to 50% less stretch than some others.
The Cajun line is also a thin diameter. Shakey jig anglers (except in the West) may think 6 lb is too light, 8 lb a little too heavy, says Therrell. So Cajun developed a 7 pound test fluorocarbon - the best of both worlds - strength and thinness for shakey head anglers.
Personally, I have seen many days with dropshot and shakey jigs when the difference between 6 and 8 pound test fluorocarbon - everything else being the same - made a major difference in the number of bites on the same bait and rig. Generally, a lighter line, for whatever reason, is often going to get bit more. I don't know why. It just does.
So I really like that Cajun understood this, and came up with 7 pound test as a solution. It clearly shows they know exactly what today's anglers need in a fluorocarbon line. I certainly plan to try their 7 pound test when it becomes available.
Cajun Fluorocarbon is clear, 100% fluorocarbon. Available in 4, 6, 7, 8, 10, 12, 15, 17 and 20 lb. test.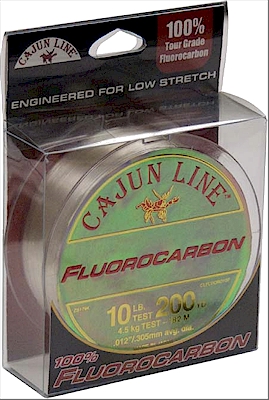 ---
If you have a lot of half-used spools of line (and who doesn't), Clam Clips are a nice way to manage all the loose ends.
The adhesive tape will stick to anything, and is so strong, you will pull the label off the line before the Clam Clip will come loose, says the company.
If you want to reuse Clam Clips with another spool, simply get some 2-sided tape found in any hardware department or store, cut to shape and apply new tape to the Clam Clip.
Clam Clips have no memory, so they always remain tight as a clam and can be used with any line size from 60 lb line down to 2 lb test., the company says.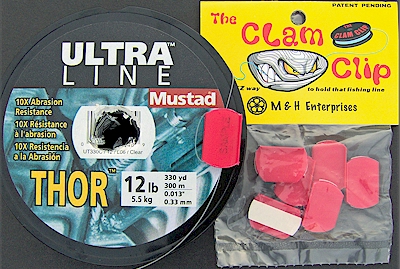 ---
SeaGuar, the inventor of and world leader in fluorocarbon fishing line, is the only company in the world that makes its own fluorocarbon line, according to SeaGuar VP John DeVries.
SeaGuar will have two new 100% fluorocarbon lines for 2009:
1) AbrazX. Intended to let anglers hit heavy cover with confidence. Available in 4 to 25 lb. test.
2) Red Label. A great all-around fluoro at an affordable price, says the company.
Both AbrazX and Red Label lines are laid on the spool so the line is always placed side by side, never crossing over itself. The result is the line on the filler spool has no overstress or twist, eliminating cross contact marks that may compromise strength, says SeaGuar.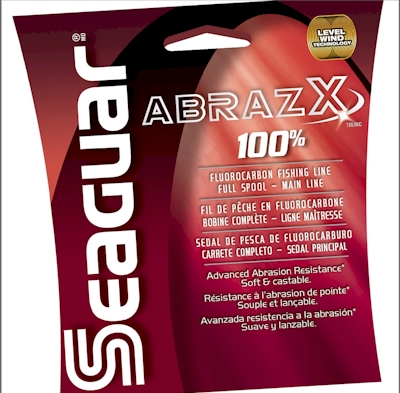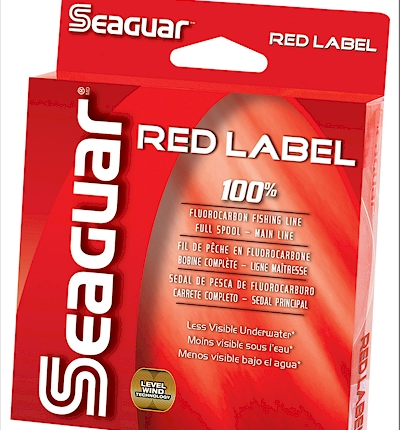 ---
Deep Cranking Mono Line. I didn't bother to find out more about this line at ICAST since any line that's specifically targeted at Deep Cranking is going on my shopping list to try it. The company claims it is a high molecular monofilament line that sinks rapidly to get the lure in the strike zone quicker. They also say it is extremely manageable for great control. Whatever. I'll find out what it is for myself as soon as I can get some.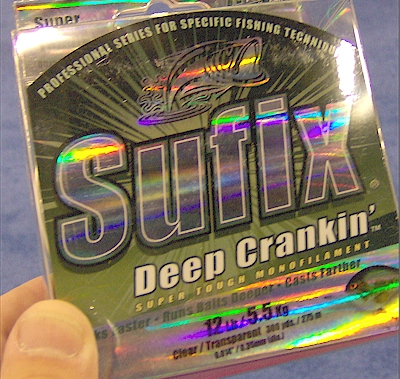 ---
FC Sniper. Tadashi Nakajima, Seigo Saito and the Sunline crew says Super FC Sniper is the number one fluoro in Japan where Super FC Sniper sells way more than other fluoros.
In the USA however, Super FC Sniper hasn't been so easy to get yet, but that's been changing.
Sunline Co. (Japan) had a distributor in the US market, and in February 2008, they also established Sunline America Co. here, in order to have a better understanding of the US demand. In order to maintain more control over the inventory, they currently have a warehouse stocked with line located in Los Angeles County. So Super FC Sniper should become increasingly available in more outlets across the States in 2009. It will also be offered in a new 200 yard spool size just for the US market, so Sunline's serious. The 200-yd. spool of Super FC Sniper will not come out till September 2008. It will replace the current 100-yd spool. Long story short, expect Super FC Sniper to become increasingly popular in the USA in 2009.
Super Natural Sunline Mono Totally new, even in Japan. Totally softer, sensitive, thinner. Compared to other monos, makes a super long cast. Strong, abrasion-resistant. These are all things every line company says. Seigo Saito and the Sunline crew did not try to oversell it. They called it thinner than usual, a little on the soft side, but not that much stretch. Manageable. Their matter-of-fact confidence left me feeling this may be the real deal.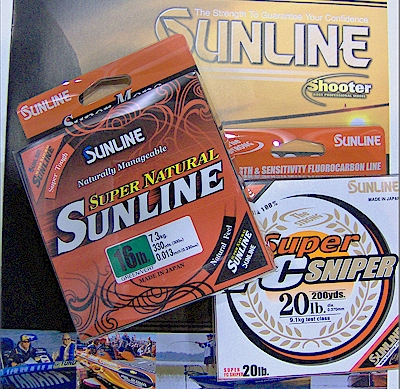 New Super Natural Sunline Mono (left) and Super FC Sniper fluoro.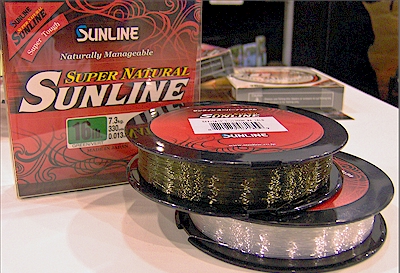 A natural mono. Thinner than usual. Little soft, but not that much stretch. Manageable. Clear and green.
Special Features of ICAST 2008: