ICAST 2008:
Frogs Released by Gambler, Gene Larew, Kanji, Mann's, Rein, Secret Lures, Snag Proof, Spro
Double Trouble Toad Hook. Byron Childer says his new toad hook has a unique tin-lead combination molded on the head of a 4/0 Gamakatsu double hook where a screw lock keeper is placed. This hook is specifically designed for the Gambler Cane Toad but will work on any soft plastic toad style bait, says Byron.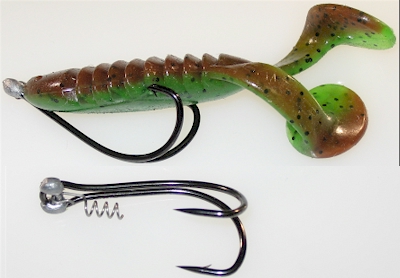 ---
Three Legged Frog. In some Chinese traditions, the three legged frog is called the 'money frog' since it's said to bring wealth into your life. So George Toalson at Gene Larew may be holding the key to your good fortune. His three legged frog has a solid body, is durable and floats high on the surface, even with a big heavy hook. The third leg adds even more commotion than most other buzz frogs.
It was named "Best of the Best" for 2008 by Field & Stream magazine whose evaluation team fished a large number of lures for over a month, to let the fish decide. Apparently the fish cast their votes for the Three Legged Frog!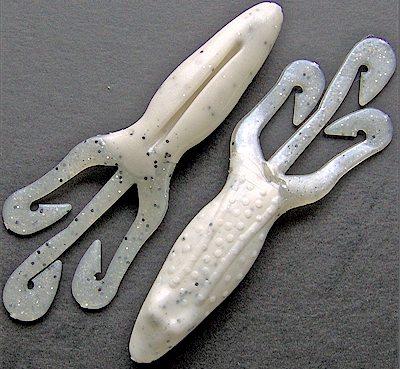 Gene Larew Three Legged Frog
---
Crankin' Frog. John Morrow introduced me to Kanji's hollow rubber Crankin' Frog. This is not a new product for 2009, but still it's probably new to most anglers. Morrow likes it best on top of grass mats or when twitched off the edge of a mat. He also likes to reel it super slow in open water, When reeled slowly, the front end dips under water with the back breaking on top.
Yet you can reel it faster, and it will dive 1 to 1-1/2 feet. like a shallow crankbait. In this way, you always have the lure working for you, right up to the rod tip. Yet Morrow catches most fish with it while waking slowly or using a topwater twitch.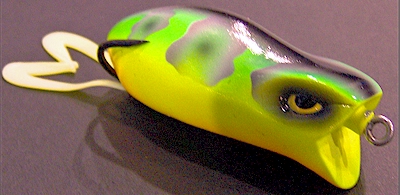 Kanji Crankin' Frog
---
The Weasel. Hunter Cole was excited over Mann's new hollow rubber Weasel, so-named since it has a snout like a weasel. I too got excited over this bait when I saw it in action in the video that Hunter showed me of it swimming. It looks most excellent swimming in the water, has a lot of body action but the wicked tail whipping was the best feature. I think this bait really brings hollow rubber frog fishing to a different level. Hopefully it will work as good on the water as it looked on the video screen. The lip causes the bait to dive to depths of 2 feet on a steady retrieve. You can swim it or crank it down through open water pockets, and let it float up to twitch or wake it over thick grass patches. You're just not going to realize how good the Weasel swims until see it in action. The Weasel weighs 1/2 oz. and is equipped with an Eagle Claw Lazer Sharp Platinum Black 3/0 double hook.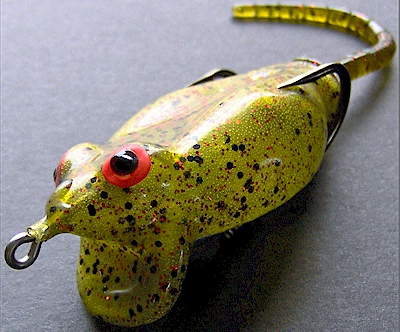 Mann's Weasel
---
Rein products are distributed in the USA through Optimum Baits in Temecula, California.
I think this may have been the first ICAST show for Masayuki Aoki, president of Rein.
Rein Semi Daddy Frog. As I understand it. the larger Rein Semi Daddy Frog is more for open pockets in lily pad fields, where it is barely worked so it mimics a resting bug, amphibian, or even a small mammal or bird. It is not intended to work it hard, buzz it or walk it. The silicone legs and little rod movement coax bass. After all, how often do you see frogs (or anything) herking and jerking and popping and buzzing through the pads? You don't. Most critters that lurk on the tops of lily pads are content to just sit there and soak up the sun. So the Rein Semi Daddy Frog is a very close imitation in appearance and gentle, natural action. Think of it as a finesse frog. Most of the time, most of the critters a bass eats in the pads are not active but at a standstill.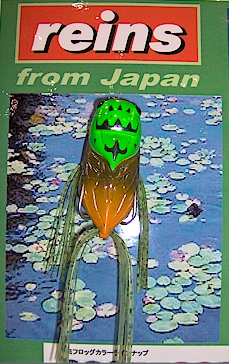 Rein Semi Daddy Frog
Rein Semi Frog. Shown below, the Rein Semi Frog is the smallest hollow rubber frog I've seen, and I know exactly what to do with it. String up a spinning stick with 15 lb braided line and splat the buggy little Rein Semi Frog down tight to tall weed, reed, phragmite and tulle berms.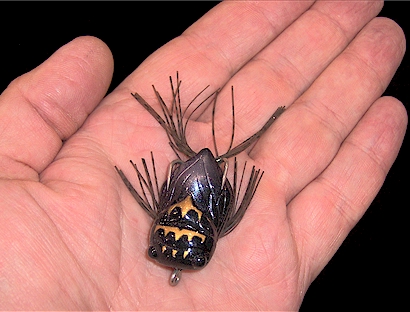 Rein Semi Frog looks just like a bug.
---
Chubby. The company just couldn't keep 'Chubby,' their soft buzz toad secret any longer. A nice option are the colors that have clear legs. Try them on days when fish are short-striking, and see if the clear legs encourage the fish to focus the strike on the colored body (and therefore the hook) more closely.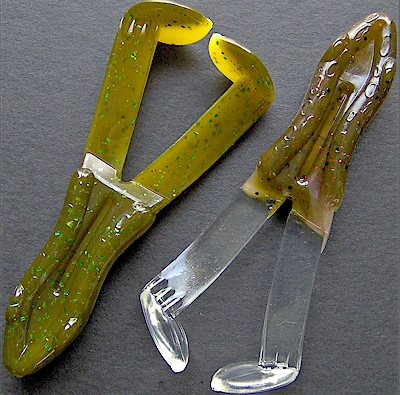 Secret Lures Chubby
---
Bass Kicker Frog. Connie Fuller says Snag Proof's latest Bass Kicker Frog is a natural progression. "The buzz legs are an idea we've had since we introduced the Wiggle Wog. It's built on the same proven hollow rubber body as Snag Proof's Pro Series Tournament Frog and has a Premium Owner double hook," says Connie.
Instead of skirt strands as legs, it's got durable kicking paddle foot legs.
This frog is ideal for a buzzing retrieve, in weeds, pads or even in open water. We've watched all the soft plastic buzz frogs .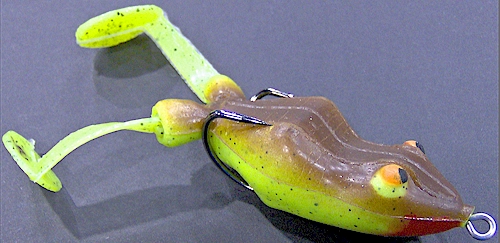 Snag Proof's latest - the buzzing Bass Kicker Frog
---
SPRO's new amphibian additions include:
Bronzeye Popper ~ Hollow Rubber Frog. The Dean Rojas Signature Series Bronzeye Popper Frog was designed to attract bass out of the thickest cover with its loud popping sound. Weighing 1/2 oz, the Bronzeye Popper comes with specially designed 3/0 Gamakatsu Hooks designed to fit the bait perfectly for solid hook ups.

Bronzeye Frog ~ New Colors. The classic Bronzeye65 has become the standard for frog fishing with highly realistic action and eye-popping colors for a variety of cover. SPRO's line-up for 2009 includes five new Bronzeye Frog colors: Navy Seal, Harbor Seal, Camo, The Killer, and Baby Duck.
Special Features of ICAST 2008: