ICAST 2008:
Rod Highlights from American Rodsmiths, Big Bear, Kistler, Lamiglas, St. Croix
American Rodsmiths Adjustable Length Blanks and Grips for 2009
Mag Strike Predator Rod Series. The new Mag Strike Predator series rods are unique in that they have an adjustable length handle behind the reel seat.
"We realized each of our pros had a different personal best length they liked their rod handles to be," says Bubba of American Rodsmiths. "So we developed the adjustable locking handle system to allow any angler to quickly adjust their handles to their preferred length or for any fishing situation they may encounter, whether they may need a shorter handle for close in fishing or a longer handle for distance casting."
Once set where you want it, the handle locks securely. Available on 10 new baitcasting and 3 new spinning models.
H3 Titanium UltraMax Adjustable Length Rod. "We took our most popular 7 foot Mag Bass Rod and added out locking foregrip technology to make it adjustable in length from 6'6" to 7'2"," says Bubba at the American Rodsmiths booth. Available in a single baitcasting model for bass.
This adjustable length rod may prove most appealing to non-boaters who are limited to taking only a few rods with them. Also shore anglers who walk the bank with one rod. So the adjustable length rod gives them one rod with some versatility too handle different situations with the same stick.
---
A Bear-y Good First Showing from a Young Rod Company
This was the first ICAST show for Big Bear, a young company that's been building rods since 2005.
The distinguishing feature is the grip. It does seem quite comfortable, almost molds itself to your hand, and is firm yet soft at the same time.
The good tactile properties of the grip leads to increased cast control and even more solid hooksets according to Rob Wimberly.
"In cold weather, the grip is insulated and retains warmth of your hand in cold temperatures, yet it isn't hot or sweaty in the heat of summer," says Rob. "When it's rainy, water runs off through channels in the grip."
There are 6 power levels, including one in between MH and H called '3/4's Heavy'.
Big Bear rods are well-thought out, right down to the ergonomically streamlined butt grip so as not to interfere with the angler's body during rod movements. Also, the exposed blank between the split grips is marked in big letters as to the length and power of each rod, so you can easily tell at a glance which rod you're picking up - a nice feature.
Overall, a good first showing from a new rod company.
Made in USA with a lifetime warranty.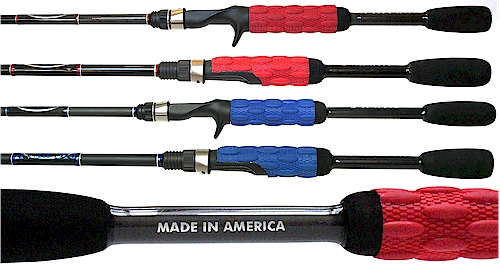 The unique, tactile hand grip is the centerpiece of Big Bear's rod designs.
---
Three New Alton Jones Signature Rods for 2009
Clifford Wiedman at Kistler emphasized three new Alton Jones signature rod models for 2009:
Football Head Jig Rod.
Crankbait Rod
Spinnerbait Special
The Spinnerbait Special seemed like just that. The Crankbait Rod had a nice, supersoft yet strong action. The Football Jig Rod, giving it the 'shelf shake' at the show, my first impression (which can often be mistaken until you fish a rod), is it seemed a scooch soft for heavier 1 oz football heads, but just fine for 1/2 and possibly 3/4 oz football heads.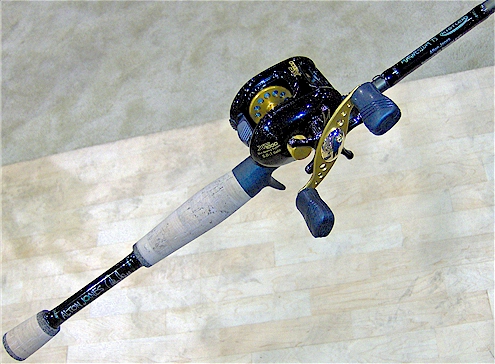 One of Alton Jones Signature Series by Kistler.
---
New Crankbait Rods and Texalium on Tap for 2009
Texalium Handle Rods. Lamiglas emphasized their new Indian River rod series, featuring Texalium handles.
"These are inshore coastal light tackle rods, says Josh, Cooper. "but smallmouth anglers in the Northwest (where Lamiglas is located) have been using them with rave results." There are 5 spinning and 2 casting models. All feature fast actions for superior performance with artificial lures. What's most unique are the blanks, a blend of high modulus graphite that transitions to Texalium woven aluminum-impregnated material used on the handles. There are no foregrips, and Texalium is used as the rear grip material and butt of the blank. In this way, every bit of available information that reaches the rod tip is transmitted to the angler's hand on the exposed Texalium handle.
Crankbait Rods. New for 2009 are two composite e-glass crankbait rods. Josh says, "These are e-glass fiberglass blanks from tip to butt. However, the lower half of the blank is reinforced with one single layer of graphite wrapped around the lower e-glass section."

Crankbait rod (top) and Texalium handle rods by Lamiglas.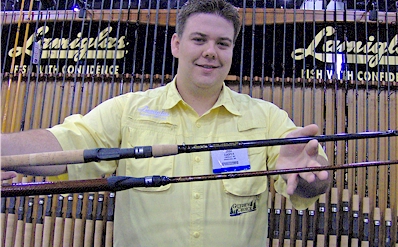 ---
Three New Series to Suit All Tastes
Jeff Schluter of St. Croix Rod emphasizes three rod series - Mojo Bass, Legend Xtreme and Legend Elite - for bass anglers in 2009.
Mojo Bass.

"Geared for the young, aspiring tournament angler, Mojo has a hot look with a black cherry metallic finish and split-grip handle," says Jeff. Available in 12 technique-specific models.

Legend Xtreme.

The Xtreme's are more radical or adventurous with split-grip handles, REC Recoil guides and a 'blue/green flip' blank finish, Schlulter says. Available in 16 models.

Legend Elite.

Feature a more conservative look with Fuji SiC guides, standard cork handles and a classic forest green pearl blank finish," Jeff says. 25 models available.
"The two Legend series feature similar levels of performance," explains Jeff.
Special Features of ICAST 2008: