ICAST 2008:
Feeling Lucky and Crafty at ICAST
"For 2009, there are a few new colors and new models that Lucky Craft desires to emphasize," says Maiko Kikuchi at Lucky Craft.
Sammy 105 Topwater. "This is a new triple hook, single knocker Sammy that lays high on the top of the water like a Spook instead of down in the water like the other Sammy models," says Lucky Craft rep, Roy Gray. "The tungsten ball inside creates a 'click – click – click' sound as the Sammy is walked side-to-side. Other Sammy models are silent (don't have loud noise-making parts inside)." Approximately 4 1/8" long, weighing 1/2 oz, with one extra hook on the belly, making a total of three for better hook-ups with bass.
Bassdozer says, "Existing Sammy models have always excelled for me in clearer, calmer, more finesse type conditions. So we'll need to see where this new, noisier Sammy 105 works best."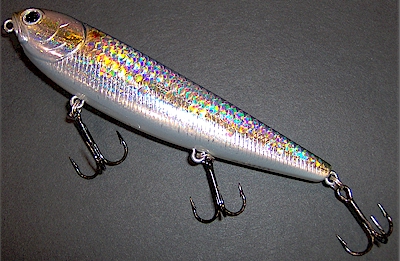 Sammy 105 floats high, has three trebles and makes a knocking noise.
Kelly J Topwater Propbait. Lucky Craft has two current propbait models (Splashtail, Waketail), but the new Kelly J may prove to be the best yet. Created by Lucky Craft national pro angler Kelly Jordon, this floating propbait is great for using around weedy areas. Word is that Kelly Jordan's pretty excited about it. Lucky Craft rep Roy Gray says the bait is for fishing around bluegill bedding areas and over submerged weedbeds. "The bait has a general bluegill-like profile and floats with its head tilted slightly above the waterline. It's designed to give a quick 'splash-splash' then pause retrieve," explains Roy. Approximately 2 3/4" long, weighing 3/8 oz.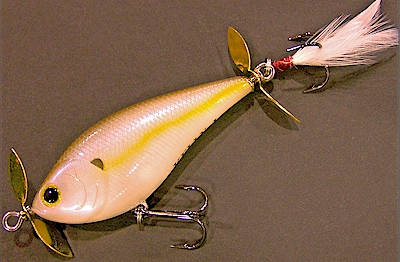 Kelly J may be Lucky Craft's best propbait to date.
Bullfish. A new, big and bulky topwater wakebait called the Bullfish was also on display at ICAST. This is a big wide-body fat wakebait. "It's shape is that of a shallow-running fat crankbait only its bigger. Anglers in Japan like that it pushes a lot of water," Roy Gray says. At show time, it was undetermined as to how many, when or through what sales channels the Bullfish may be made available in the USA. However, it created a lot of interest at the show, so maybe some decision has been made by now. Approximately 4" and 2 oz.

Bullfish is fat and bulbous. Only 4" yet weighs 2 oz.
Redemption Spinnerbait. Lucky Craft may be coming out with a spinnerbait created by their national pro Skeet Reese, called Redemption. Plans call for six colors: Aurora Black, Clear Lake Hitch, Ghost Minnow, Chartreuse Shad, MS American Shad, and Table Rock Shad.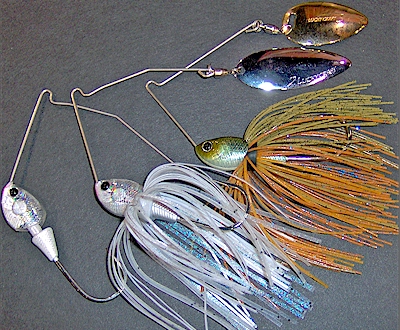 Skeet Reese Redemption Spinnerbait.
Now for the new colors:
Dobyns Phantom Chartreuse Shad.

Color #252. - This is a Gary Dobyns signature color. "It is a real subtle clear water color. The number one Lucky Craft clear water color has been ghost minnow since forever," admits Dobyns. "But now the new Phantom Chartreuse Shad may give Ghost Minnow a run for its money, at least on the clear water of the Western impoundments," predicts Gary. Available in limited styles: Staysee90, LV500, Pointer 78/78DD, 100, 128 and Sammy 100. Some models may have a holographic mirror flash plate inside the bait. Others do not.

Ghost Chartreuse Shad.

Color #170. There are two implementations of this new color. In some lures such as the LV500 lipless, the color's transparent. In the Sammy 100, the color starts out similar, except there's a holographic reflective insert inside the Sammy 100 body. Available in: LV100/500, Pointer 65/65DD, 78/78DD, 100/100DD and 128. Staysee90, SKTMINIMR/DR and Sammy 65, 85, 100, 115, 128.

Skeet's Magic Ghost Gun Metal.

Color #171. Designed by Skeet Reese. It has a silver pearl back, clear sides and a chartreuse belly. Some models may have a holographic mirror flash plate inside the bait. Others do not. Available in the same models as Ghost Chartreuse Shad.


Gary Dobyns signature color, Phantom Chartreuse Shad.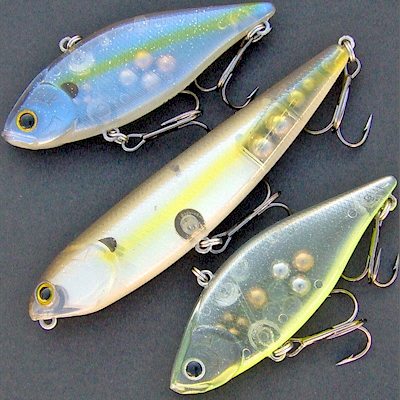 New Lucky Craft colors. Top and center: LV-500 and Sammy 100 in Ghost Chartreuse Shad. Sammy has holographic plate inside. Bottom: LV-500 Skeet's Magic.
Special Features of ICAST 2008: