ICAST 2008:
Shimano Curado Voted 'Best of All' New Products
The Shimano Curado E Series baitcasting reel was voted by tackle buyers and the fishing media to be the most innovative new product of all at ICAST 2008.
The Curado E series won the overall 'Best of Show' award, beating 695 new product entries across all fishing tackle categories in the annual competition.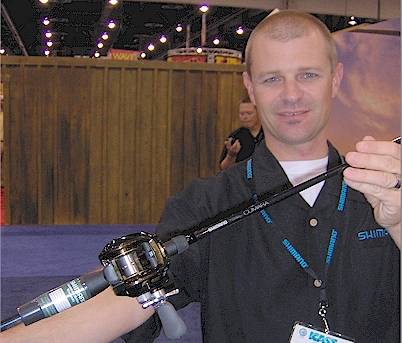 Jeremy Sweet, Shimano Product Manger-Reels, holds the ICAST Best of Show winner - the Curado E.
Jeremy points out that there are several Curado E models overall (including a CU300E which is ideal for big swimbaits). However, the two Curado E models which will be of most interest to most bass anglers are:
CU200E5.

Cranking 5:1 speed model lays 21" of line per crank

CU200E7.

High speed 7:1 model retrieves 30" of line per turn
"The E5 and E7 both come in right and left hand models. They are all lightweight at 7.6 oz," says Jeremy.
"What we wish to emphasize to bass anglers about these new Curado E's, is they have the smaller profile of a '50 series' body with the higher line capacity of a '200 series' spool.," says Jeremy.
In other words, the big, bulky reels of only a few years ago, are unnecessary and obsolete. It used to be a big reel connoted strength, durability, guts and power. 'Used to be' is the operative phrase there.

The smallness provides an advantage in palming the reel. The Curado CU200 E5 and E7 reels almost melt into your hand and disappear while using them all day - and their power is second to none.
"The days of the big, bulky reel are over," says Shimano Canada's Bob Mahoney. "The Shimano Curado E is both lighter weight and smaller than many earlier, bulkier reel models, and more powerful than many heavyweight flipping reels. The Curado E's are incredibly small and light - but powerful as heck. They will withstand years of rugged use, and the spools have ample line capacity for even the heaviest lines."
"There's no sacrifice of durability. These have powerful brass gears," indicates Jeremy Sweet. "We've added a ball bearing to the drive shaft for increased strength. We've placed a 'shielded A-RB' bearing on the pinion gear. This area of a reel is where water is most prone to intrude. So we've eliminated that with the shielded A-RB (anti-rust) bearing there. Best of all, we've dropped the price to under $200," smiles Sweet. "So not only is the Curado E series the best new product across all tackle categories for 2008, it is also affordable for the tournament angler who demands the very best he can buy for under $200."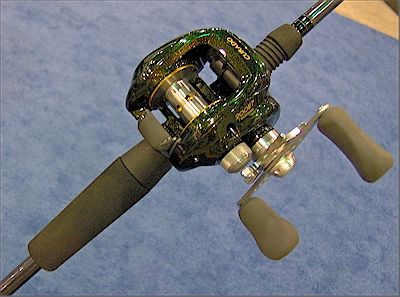 For most bass fishing situations, there is no advantage to using a larger reel any more. Quite the opposite. For casting or even flipping heavy cover all day long, the smaller, lighter yet incredibly powerful Curado E will give you an advantage over bigger, heavier reels.
Shimano Spinning Reels for 2009. There's really no such thing as a bad Shimano spinning reel. They're all good at whatever price level you can afford - and they keep getting better.
"For 2009, some of the high end features found on Shimano's top-of-the-line spinning reels have been moved down to the $99 to $39 price range reels," says Jeremy. "We've moved Shimano's five-component twist-reducing Propulsion Line Management System down onto the Symetre, Sahara, Spirex and Sedona series."
I asked Sweet what are his favorite picks for an angler who fishes occasionally, but may not enter tournaments.
"Two of my favorite series for the weekend recreational angler are the Symetre, maybe the Sahara. Both these series have similar tooling," says Sweet. "In terms of which reel size to use, the 2500 has become the de facto spinning reel size. That's become the workhorse for bass."
But just like the Curado E baitcasting reels are getting smaller and stronger, spinning reels are too.
"Compared to a couple years ago, a lot more of the avid anglers or tournament guys today are going to the smaller spinning reels. The 500 is a dream dropshot reel. In terms of overall sensitivity and the feel gained from a rod/reel/line system, a 500 reel is unbelievable. It's like it's not even there," says Sweet.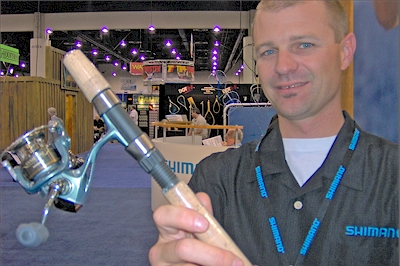 "As an avid angler, one of my own favorites is a 1000 size (such as the Symetre shown) that's now made on a 750 body. It's my go-to reel for deepwater fishing," says Jeremy.
Evair Marine/Fishing Shoes. In a company like Shimano, they're not merely content to offer some of (if not 'the') best baitcasting and spinning reels for bass on the planet. As if great baitcasting and spinning reels were not enough, Ted Sakai also introduced one of the most comfortable and practical watersport footwear styles I have even had the pleasure of slipping my tired dogs into. They made three long days of walking the ICAST show aisles bearable. Ted's Evair Marine/Fishing shoes are ultra lightweight 100% waterproof EVA material. The removable waterproof insole is buffed to make it fluffy and comfy. It look and feel like soft leather on your soles. They go good so far with or without socks. An avid watersport enthusiast and angler, Ted says these shoes are designed for all activities on or near the water. Whether it's fishing, boating, kayaking, jet skiing, the Evair footwear is designed to help protect feet during sports, and at the same time they are open and airy. Of course, they look and work just fine around town, the backyard or house.
One neat thing Ted said he'll sometimes use the metal carrying clip on the front as a pull ring to help him cinch down a stubborn knot on a Carolina rig or hook. That's a true sign of a good fishing shoe!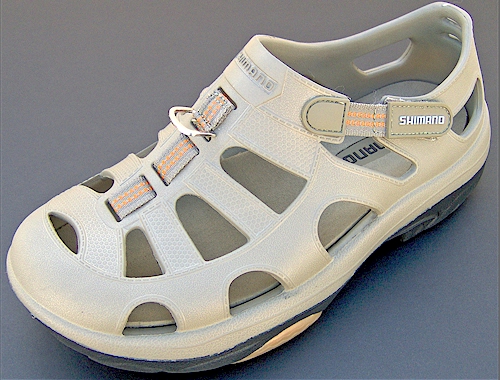 Fishing feet may never get treated any better than a pair of Shimano Evair Marine/Fishing Shoes by Ted Sakai.
Special Features of ICAST 2008: