ICAST 2008:
KVD Comments on Strike King's New Bass Baits for 2009
1/4 and 3/4 oz Red Eye Shad Sizes. Building off KVD's tournament-winning success with the 1/2 oz lipless Red Eye Shad, Strike King has introduced smaller 1/4 oz and larger 3/4 oz Red Eye Shads for 2009. Kevin VanDam says it is the fall this bait has that's the deal for him. Therefore, Strike King's goal was to ensure the new 1/4 and 3/4 oz sizes do the exact same thing as the original 1/2 oz model. Strike King feels they do have the same great casting distances, same great vibration, same great sound and the best fall in the business.
When you burn this bait and kill it, the fall and the way the bait shimmies as it falls is what incites bass and enabled him to win a BASS Elite Series tournament with the Red Eye Shad, says KVD.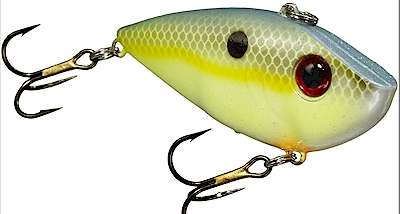 Red Eye Shad
"With the three models, making the choice of which one to use when (1/4, 1/2, 3/4), the way I see it comes down to depth and speed," Kevin tells us.
3/4 oz Red Eye.

"I'll choose the 3/4 oz Red Eye to get maximum depth. It's a good choice for getting deeper in the summer months, for getting down on ledges or to yoyo it in anywhere from 7-20 feet. I'll sink it down and yoyo it along the bottom almost how you'd fish a jig," according to Kevin.
1

/2 oz Red Eye.

"I can use the 1/2 oz Red Eye anywhere from dirt (the bank) to about 7' deep," KVD says.
1

/4 oz Red Eye.

"I'll use the 1/4 oz Red Eye in grass that's real thick or real shallow water. It's also a good fall (autumn) bait. In the backs of the creeks in autumn, there can be a lot of real small bait, and the 1/4 size better matches that. Also when there's thick grass that grows within two feet of the surface, the 1/2 oz size can get caught up too easily in that. However, the 1/4 oz will not hang up, especially if you use it with heavy line," adds Kevin.
"Overall, size choice is more about depth control and speed, and you can use line size to control that too. Heavy line's going to keep the lure higher or let you go slower. Lighter line let's it go deeper and/or faster," says VanDam.
Wake Shad Topwater Swimbait. Strike King brought it's jointed King Shad hard swimbait to the market last year (2008). The Wake Shad, new for 2009, is identical to the Kind Shad in every way except for the front lip which lets the Wake Shad stay on the surface and 'wake' or roil the water with its jointed body. Strike King says it can be reeled slowly or burned across the top of the water. Simply throw it out and reel it in. Change your retrieve speed to get dialed into the pace the fish prefer, and catching a big one should be no problem, says Strike King.
"I'm a huge fan of the King Shad, and I got it on the map for Strike King since I caught so many big fish on it," says Kevin VanDam. "The nice thing about the King Shad is you can just burn it real fast, and the silhouette is natural enough, even in clear water, to get reaction strikes."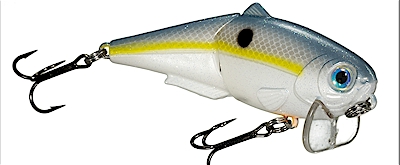 New Wake Shad
"The new Wake Shad is just like it, except it wakes on the surface. The best time of year you can do real well with wakebaits is post-spawn," according to Kevin.
"You can keep the Wake Shad close up near the surface, in clear water, and it kind of gets obscured up there, due to the surface ripple, reflection and everything else that breaks up the surface. On the other hand, a bait that gets 3-4 feet under the surface, in clear water, fish can see it too easily and detect it's fake. But a bait like the Wake Shad, that is right up near the surface, can't be detected as fake so easily. So in clear water you can catch fish with the surface-riding Wake Shad that you can't catch with the King Shad (which runs 2-4' deep)," explains Kevin.
Two New Spinnerbaits with Raz-R-Blades. Strike King is the #1 spinnerbait company in the world, has two new models for top and bottom fishing. Both feature Strike King's new 'Raz-R-Blade High RPM' blades. These are a thin cut willow leaf blade designed to increase the revolutions of the blade, which increases the flash, claims the company. Both come in a variety of colors including Strike King's hit Sexy Shad color.


Bottom Dweller (left) and Burner (right).
Bottom Dweller Deep Structure Spinnerbait.

Designed for deep water. It has a non-rolling head shape designed to handle bottom contact. The Raz-R-Blades help keep the bait deep while increasing the flash and allowing the bait to stay in the strike zone. Available in 3/4 oz and 1 oz models.

Burner Spinnerbait.

Ideal for ultra clear, high speed applications, the Burner's designed to swim and flash just under the water's surface. The compact, minnow shaped head is built for maximum speed and drag reduction. The Burner features the all new Raz-R-Blade High RPM Blade. The blade design helps keep the bait from popping out of the water like other willow leaf blades will do. Available in 3/8 and 1/2 oz models.
Sexy Spoon. A new style of slow-falling, fluttering, larger spoon is becoming popular nowadays. The action's designed to emulate a dying baitfish with the flash, flutter and fall. The new spoon style is regarded as a big fish technique. Available in 4" & 5-1/2" sizes and a variety of colors including the popular Sexy Shad.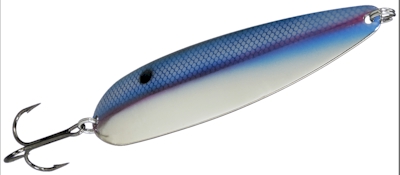 Sexy Spoon
Shadalicious Swimbait. A hollow body swimbait available in Strike King's flagship crankbait colors such as Chartreuse Shad and Sexy Shad. As with all swimbaits of this kind. matching a big enough hook to the bait is of paramount importance. Available in a new 3-1/2" size as well as 4-1/2", 5-1/2" and 6-1/2" models.


Shadalicious Swimbait
Coffee Scented Soft Baits. Strike King introduced five new 'KVD's Favorites' Coffee Scented soft baits. They contain a lot of salt and the Coffee scent is said to add appeal as it masks human scents and other undesirable oils, claims the company. Most all models of soft baits can be rigged weightless or weighted in a variety of ways.
Caffeine Shad.

A soft jerkbait style.

Go-B-Gone.

A goby style bait that should be ideal the Great Lakes such as Lake Erie and its bruiser smallies. Great to dropshot. A unique feature is the 'jig slot' in the back of the head, says Strike King.

Game Hawg.

A creature bait style

5" & 7" Ocho.

Unique among soft stickbaits in that it isn't round but has eight sides. Remindful somewhat of a pencil with its flat sides. Strike King claims the eight flat sides cause enhanced undulation and action in the water.

Rodent.

A heavy cover flipping or pitching style designed to make major disturbance under the water. Has bubble-tipped appendages.

'KVD's Favorites' include coffee-scented Caffeine Shad (left) and eight-sided Ocho (right).
"The biggest thing with the 'KVD's Favorites' soft bait line is we used this super, super soft plastic and then we added salt to kind of firm it back up again," says KVD. "Our goal was to get maximum action out of all the appendages and moving parts - but also get the fast sink rate from salt content."
"The coffee idea," KVD says, "got started since all nightcrawler worm farms feed coffee grounds to the worms, and they seem really attracted to it. One day one of the farm workers threw a cup of coffee grounds into a pond, just to get rid of them, and the bluegills ate the heck out of the grounds. That caused us to think there may be something to this, and we started to test it (coffee) on bass. There seems to be something to it. Who can say why. Same as no one can say why garlic seems to work. I'd like to get away from garlic-flavored lures anyway," chuckles KVD. "So that's how the coffee got started. We use salt in combination with it, and salt's a main component in blood, so bass taste a lot of salt when they crush a crawdad or baitfish - or one of these soft baits."
"Getting back to the coffee, we did a lot of tests with it. Bass seem to bite it more and hold it. An added benefit is, when you have coffee in a bait, it darkens the color up a bit - in a very natural way. It's hard to match any other way what the coffee added to the plastic color does. So you get a natural, little darker color that's hard to come by any other way," reveals Kevin.
Rage Tail Soft Baits. Each Rage Tail lure has a tail design that's intended to maximize attraction, splash, noise, vibration and other actions. In other words, these aren't subtle or finesse baits. They're 'Rage Tails'. Four new Rage Tail body styles for 2009 are:
Rage Anaconda.

Strike King's answer to the big worm trend. Designed to displace water and entice deepwater bass. The tail is big and bulky yet slither through the water, claims the company. Available in 7" and 10" models.

Rage Lobster.

Almost too big to be called a crawdad, hence the Lobster's name. Features Rage Claws that move violently in even small amounts of current, any movement makes them go crazy claims the company. Big profile body and claws are 4-1/2" long and displace a large amount of water. Strike King pro Denny Brauer says he pitches and flips it alone, and uses them as a jig trailer when he needs a big bulky profile.

Rage Space Monkey.

The body profile and has a frog-like look to it, says Strike King. It has outrageous action as it falls through the water column due to the Rage arms and legs, designed to displace a massive amount of water. Can be Texas Rigged, Carolina Rigged or used as a jig trailer.

Rage 6" Lizard.

The Rage Tail design is featured on all 4 smaller legs and the large Rage Tail all have incredible movement in the water, says Strike King.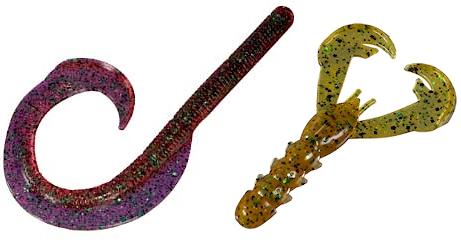 Rage Anaconda (left) and Rage Lobster (right).
"All the Rage Baits have their place and time, but probably my favorite is the Anaconda," says Kevin VanDam. "The Rage Lobster I fished earlier this year at Falcon and Amistad. The Lobster's well-suited for Texas bass, and it's just a bigger version of the Rage Craw. But the Anaconda, I've used lots of big ribbon tails in my time, and the Anaconda's got a better action at a slower speed than any I've ever seen. That's kind of the concept that defines the whole Rage Tail line. They are all designed with the concept to produce more tail action than other soft baits, whether at slow speeds or fast," Kevin says.
Special Features of ICAST 2008: